Beetroot is a Health Loaded Powerhouse! This recipe is loaded with delicious beets and our heavenly tzaziki dressing that will keep you full and nutritionally satisfied.
Benefits of Beetroot
Beetroot can enhance your production of nitric oxide which dilates blood vessels and increases blood flow. This additional blood flow can help your kidneys work better than when blood flow is restricted.
The bright red pigment of beetroot is called betanin. It helps reduce inflammation and oxidative stress. It can also help protect your kidneys from damage.
Beetroot can also help protect your kidneys from being injured from antibiotics, which can sometimes cause kidney failure.
Great source of pectin –  reduced kidney damage over a period of time and removes toxins and carcinogens.
Helps stabilize blood sugar
Reactivates good gut bacteria and helps remove toxins
helps to downregulate proinflammatory substances in the kidneys
increases natural detoxification enzymes.
Beetroot helps to increase your own natural antioxidants to protect the liver from damage. Injury to your body's DNA can also be reduced.
Beetroot is another herb that influences our genes. It can help downregulate the genes involved with liver cancer.
Beetroot's protective pigment and gene influencing properties make it high on the list of natural liver and kidney detox herbs.
Now that you know some of the health benefits of beetroot, enjoy this delicious Vegan Beet Tzatziki Salad!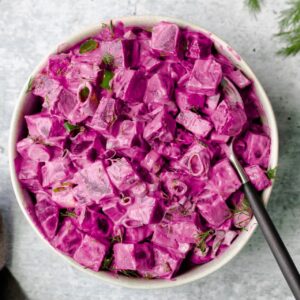 vegan beet tzatziki salad
This Vegan Beet Tzatziki Salad is made with nutrient-rich beets that are cooked, chilled and then tossed in a fresh creamy homemade vegan tzatziki sauce.  The tzatziki sauce has a rich tangy flavor and creamy texture that pairs well with the tender and naturally sweet beets.  The tzatziki sauce is made with fresh cloves of garlic which provide a pungent and slightly spicy flavor that is contrasted by the refreshing cucumber and herby dill.  The salad is tossed with green onions which add more flavor and a subtle crunch to round out this dish.  The beet salad can be made in advance and is best served at room temperature or chilled.  This easy vegetable side dish is gluten-free, grain-free, egg-free, dairy-free, paleo-friendly, peanut-free and refined sugar-free.
Equipment
Pressure cooker

Large sauce pot (covered) - Alternate to Pressure Cooker
Ingredients
Instructions
Add salt and pepper to taste.

Transfer to a serving bowl and garnish with fresh dill and more green onions.  Serve chilled or at room temperature.
Notes
To cook the beets: Remove the stem and leaves from the beets and scrub clean.  With the skin on, place them on the steamer basket of your Instant Pot and fill the pot with 2 cups of water.  Place the lid on the Instant Pot and place the knob on sealed (not venting).  Cook on manual high pressure for 30 minutes.  Manual release the pressure, remove the lid and check for doneness with a knife.  A knife should very easily slide in and out of the largest beet.  It is best if your beets are similar in size.  I used large beets here.  For smaller beets you can reduce the cooking time.  Once the beets are tender and cool, remove from the Instant Pot and use your hands to remove the skin.  The skin should very easily peel right off.  Cut the ends off the beets and then use a knife to cut the beet into 1/2-inch cubes.  Mine typically measure about 4 cups once the beets are cut into cubes.  If you have more that is okay, you can add more sauce.  I always make a full batch of the sauce and save extra for other dishes.  Tzatziki sauce is so versatile and pairs well with salads, quinoa bowls, falafel, roasted and raw veggies and more.
For a more filling dish you can toss in hemp seeds, cooked quinoa and/or firm avocado chunks.  If you do this you may want to add more sauce.